Social media platforms such as Twitter and Vine capitalized on their full information sharing potential last month during the Boston Marathon bombings.
Serving as a primary news resource, Twitter provided a vehicle for free-flowing communication and instantaneous updates between the Boston Police Department, news conglomerates and the public.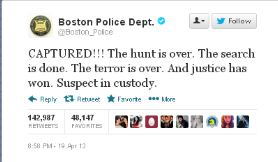 The activity around the bombings demonstrated the potential of Vine, Twitter's six-second video app, as a communications resource, serving as the first location of video footage of the explosions.
When integrated with Twitter, Vine proves to be a practical vehicle for bringing content to life in a shareable and visually unique way.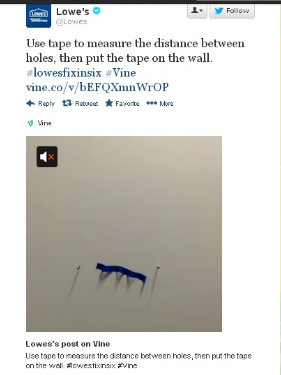 Few companies have leveraged Vine to its full potential since its introduction in January.
However, those who have, such as Lowe's Home Improvement, have seen the benefits.
Launching a new campaign, Lowe's introduced several "quick fix" home improvement videos with the hashtag "#lowesfixinsix," providing customers with the visual instruction needed to complete their projects.
"What consumer behavior is forcing us to do is learn to be incredibly concise. We're making an effort to demonstrate that we know… so consumers think it's worth seeing what else we know on our site and store," said Tom Lamb, chief marketing officer at Lowe's.
One of the main benefits of Vine is that it helps allow customers become advocates.
From musicians releasing their albums through song clips, to the White House's debut video of its annual Science Fair, brands and agencies are realizing the potential to engage an entirely new consumer base – the younger generation.
According to Business Insider, social networks offer high engagement, with the 18 to 24 demographic averaging 20 hours per month.
This should come as no surprise as Twitter and Facebook have both passed the 50% mobile usage market, with trends indicating a continual rise.
As mobile usage continues to escalate, the trend towards video and picture sharing over text-only options has increased.
Instagram, owned by Facebook, has introduced a new "Photo Tagging" feature, giving brands higher visibility on the youth-oriented photo-based platform.
Business and products can tag users or other brands directly in photos, offering marketers new tricks to vie for user attention.
This feature provides unprecedented consumer reach to its over 100 million users, as well as adding a personal dimension to corporate photo-sharing.
Social networking sites are shifting the way in which users interact with brands.
Through this shift towards visual integration of photo and video, what we once "heard through the grapevine" we can now see through the grapevine.