Strategic Communications Campaign Addressing Global Hunger & Food Security
*Past Client
Since 2010, ProActive Communications has designed and implemented a successful, strategic communications program for the Global Harvest Initiative (GHI) that has included a website redesign, web-based platform enhancements, social media management, a media campaign around the release of five policy papers, video and multimedia productions, the development and promotion of GHI's annual, signature GAP Report™, as well as event planning for the release announcement event at The World Food Prize Symposium annually.

GAP Report® Release Event at The World Food Prize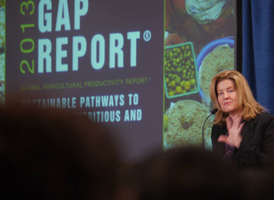 The GHI-sponsored events at The World Food Prize Symposium were the culmination of more than nine months of comprehensive planning and preparation. As a result of aggressive outreach and promotions using various traditional and digital tools, over 200 guests attended the GAP Report® announcement event, including numerous journalists and high-profile government, NGO, and private-sector guests. The event was also streamed live online to GHI's website, which allowed reporters and visitors from around the world to view the event, resulting in additional media coverage.
Global Agricultural Productivity Report® (GAP Report®)
ProActive Communications developed strategic messaging and custom-designed the GAP Report® for print and online publication. We were also responsible for the marketing and promotions of the report, which included online advertising, a social media campaign, video productions, electronic newsletters, and promotion through both World Food Prize and GHI platforms.
Infographic Design
Social Media Management